Today I drove my first rivet! I took the Synergy Air Fundamentals of Building class in Placerville, California. I went with high hopes, but I couldn't have anticipated how much there was to learn in such a short time. Here I am deburring the first hole I drilled. A meager beginning...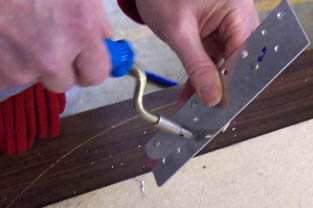 A blurry picture (that's probably good!), but more surprises as I began to realize how easy it was to rivet. O.K., you old hands already know all this, but it is brand new to me and I had my doubts.
Well, there had to be a picture of Wally. I can't resist, because he did such a fine job. Even experienced builders like Gary (standing next to Wally) learned a lot and came away happy.